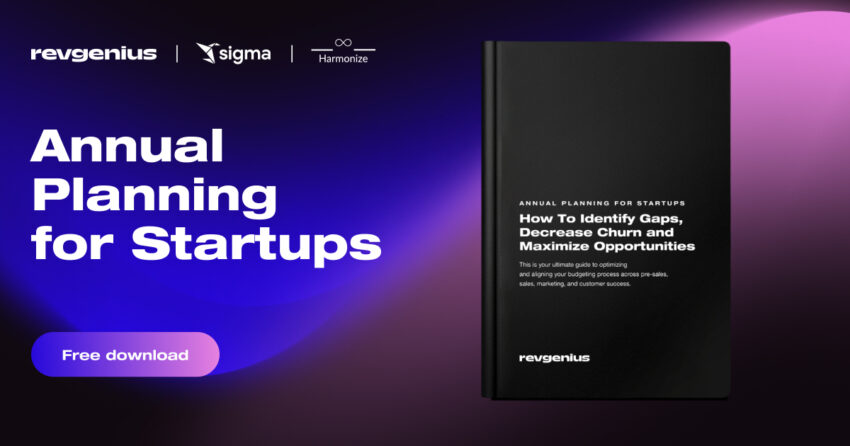 Annual Planning for Startups: Identify Gaps, Decrease Churn, and Maximize Opportunities
In an era where cost efficiency and sustainable growth are paramount, understanding key business metrics can be a game-changer. We are excited to present our latest eBook that sheds light on crucial metrics like Customer Acquisition Cost (CAC), payback period, and the Lifetime Value (LTV) of a customer. This eBook is designed to help CMOs, Sales Leaders, Revenue Operations, and Customer Success Leaders navigate through the complexities of these metrics and utilize them effectively to drive business growth.
Our eBook provides an in-depth analysis of the 'magic ratio' – a telltale sign of your sales and marketing team's contribution to the company. A magic ratio above 1 is the goal, but reaching a target of 3 and above is where the real magic happens. But remember, this ratio should not be considered in a silo. It's a part of the bigger picture, representing just one aspect of business efficiency.
One of the key highlights of the eBook is the importance of tracking customer cohorts. By doing this, companies can identify issues leading to churn rapidly, allowing for swift preventative measures. This proactive approach paves the way to minimize churn and maximize customer retention.
Our eBook also emphasizes the delicate balance between reducing CAC, lowering payback periods and extending LTV of a customer. With these strategies in place, businesses can witness sustainable and efficient growth.
Revenue Operations will find valuable insights on the role of the magic ratio in evaluating operational efficiency and long-term sustainability. On the other hand, Sales Leaders can learn how to make each dollar spent on sales and marketing count towards increasing annual recurring revenue.
For Customer Success Leaders, the eBook offers strategies on tackling churn rates by diagnosing issues from customer cohorts. It also provides insights on how to use LTV calculations for better customer retention strategies.
In a nutshell, our latest eBook serves as a diagnostic tool, offering insights that can direct your resources and priorities towards areas that need improvement. So, if you're aiming for sustainable business growth and operational efficiency, this eBook is definitely a must-read.
Designed for GTM  
Our guide is designed for:
– Sales leaders, so they can focus on hiring plans for sales and presales teams
– CMOs, so they're able to secure budget approval for events, programs, and hiring initiatives
– CROs, to better optimize Customer Acquisition Cost (CAC) and Net Dollar Retention (NDR), while maximizing revenue through team configuration
– CS leaders, to develop a hiring plan, evaluate coverage, and conduct cohort analysis for the CS department
– Founders/CEOs/CFOs, to address investment and financing requirements
– RevOps leaders, to establish a cohesive plan that unifies all aspects of the business
Expert Insights from Our Community Members
We've teamed up with industry experts — David Maxey, Head of Revenue Operations US at XM Cyber and Sigma Computing to provide you with the best advice and strategies for creating an effective annual plan. Our ebook will help you to identify areas of improvement, set achievable goals, and track progress with data-driven insights.
Ebook Partners
GTM Harmony delivers Harmonize: SaaS service designed to assist Founders, CEOs, and GTM leaders by providing them with the vital GTM metrics they need to make informed decisions. After an initial consultation to understand their current state and goals, our software integrates into their CRM, pulling actual data and recalculating models monthly to ensure up-to-date and accurate projections.
Sigma is a cloud-native analytics platform using a spreadsheet-like interface that empowers business users to collaborate and make data-driven decisions through self-service business intelligence. Sigma requires no code or special training to augment with new data, perform "what-if" analysis in real-time, and answer natural language questions. Through the modern intelligence cloud, at Sigma we empower everyone to data confidently.
And if you'd like to listen to David Maxey, make sure to watch the latest episode of Revenue Today