Uncategorized
Five Essential Items You Should Have in Your SEO Toolkit
SEO is becoming more complex and competitive over time, requiring increasingly larger investments to get your content to rank well.
We could actually say the same about every other marketing channel like paid traffic and social media. For those reasons, it is increasingly critical to construct an SEO-based content marketing strategy that is right for both your business and your prospects.
Are you looking to beef up your content and supercharge your SEO, but don't know which tool to use?
You've come to the right place.
This article covers five essential SEO tools that you can use together, or opt for an all-in-one suite on a higher tier plan. Before we dive into this, however, keep in mind we don't cover the usual WordPress SEO plugins like Yoast or Rank Math. We'll focus on external SEO tools outside of your website and CMS.
Please note that this article was written in November 2021, and all prices listed in this article may have been updated since time of writing.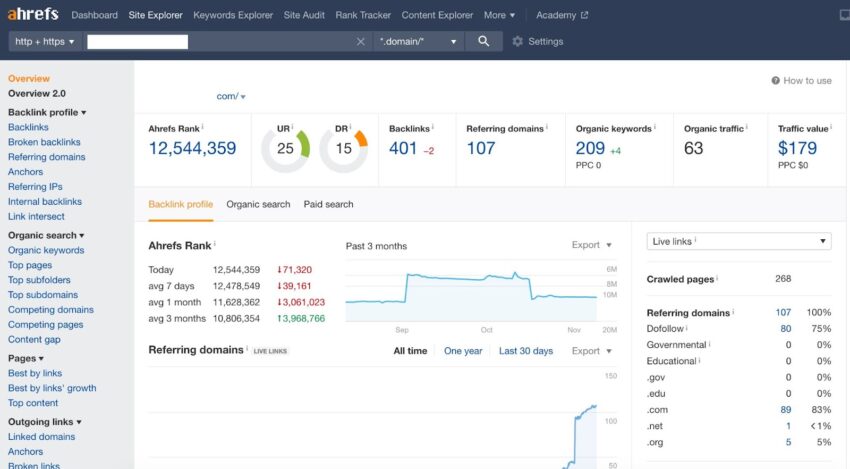 If you use only one tool for SEO, then Ahrefs will have most, if not all of what you're looking for. Even a huge tool like Ahrefs started small as a backlink index in 2010 and it grew steadily afterward until it became one of the most popular SEO tools on the web.
WHAT IT DOES
Ahrefs is an all-in-one software suite that helps provide high-level insights on the performance of all your monitored sites, along with keyword research, competitor analysis, link building, tracking your search rankings, and much more. It even provides a tool that helps you research topic ideas and content opportunities.
Other than a dashboard that provides an overview of the website you're analyzing, the Ahrefs toolset also gives you the following:
Site Auditor: Find technical issues that may be affecting your page rankings
Site Explorer: Analyze a URL's search traffic and backlink profile
Keyword Explorer: Get keyword ideas, sort by ranking difficulty and traffic potential
Content Explorer: Discover and analyze most popular articles on any topic
Rank Tracker: Track your rankings and content performance over time
WHY USE IT
One major reason to use Ahrefs is that it provides several tools in one suite. To get the same functionality with the same power without Ahrefs, you would have to purchase several tools and use them separately at the same time. Integrating multiple tools onto a single dashboard would be difficult at best, most likely requiring a team of developers to build one in-house. Ahrefs gives you a dashboard with all the integrated tools and functionalities, saving you from having to buy and use separate tools.
Another big reason is that it provides many insights that help drive your content strategy to get more traffic, more leads, and ultimately more sales and revenue.
These insights include:
What and how people are searching for information in your industry.
Which keywords show buying intent compared to keywords that only imply information-gathering intent.
What types of content are most likely to attract not only organic search traffic, but also the right prospects who are more likely to buy your products and services.
Where the best internal and external linking opportunities lie.
Finally, Ahrefs provides insights on how to apply technical improvements on your website for better speed and performance.
Since July 2021, Google has started using Core Web Vitals (CWV) as a strong ranking signal. This means page load speed is just as much of a ranking factor as the quality of your content. In other words, you can publish the best, most informative and most engaging content on the entire internet, but if your page or website loads too slowly, your content won't rank well.
You can test your website or URL on Pagespeed Insights to get details on how to improve your CWV and by extension, the ranking performance of your content.
HOW MUCH IT COSTS
Ahrefs provides multiple plans, in which the standard plan costs $179 per month as of November 2021, allowing you to track up to 1,500 keywords.
Further Reading: Backlinko provides an in-depth resource on using Ahrefs.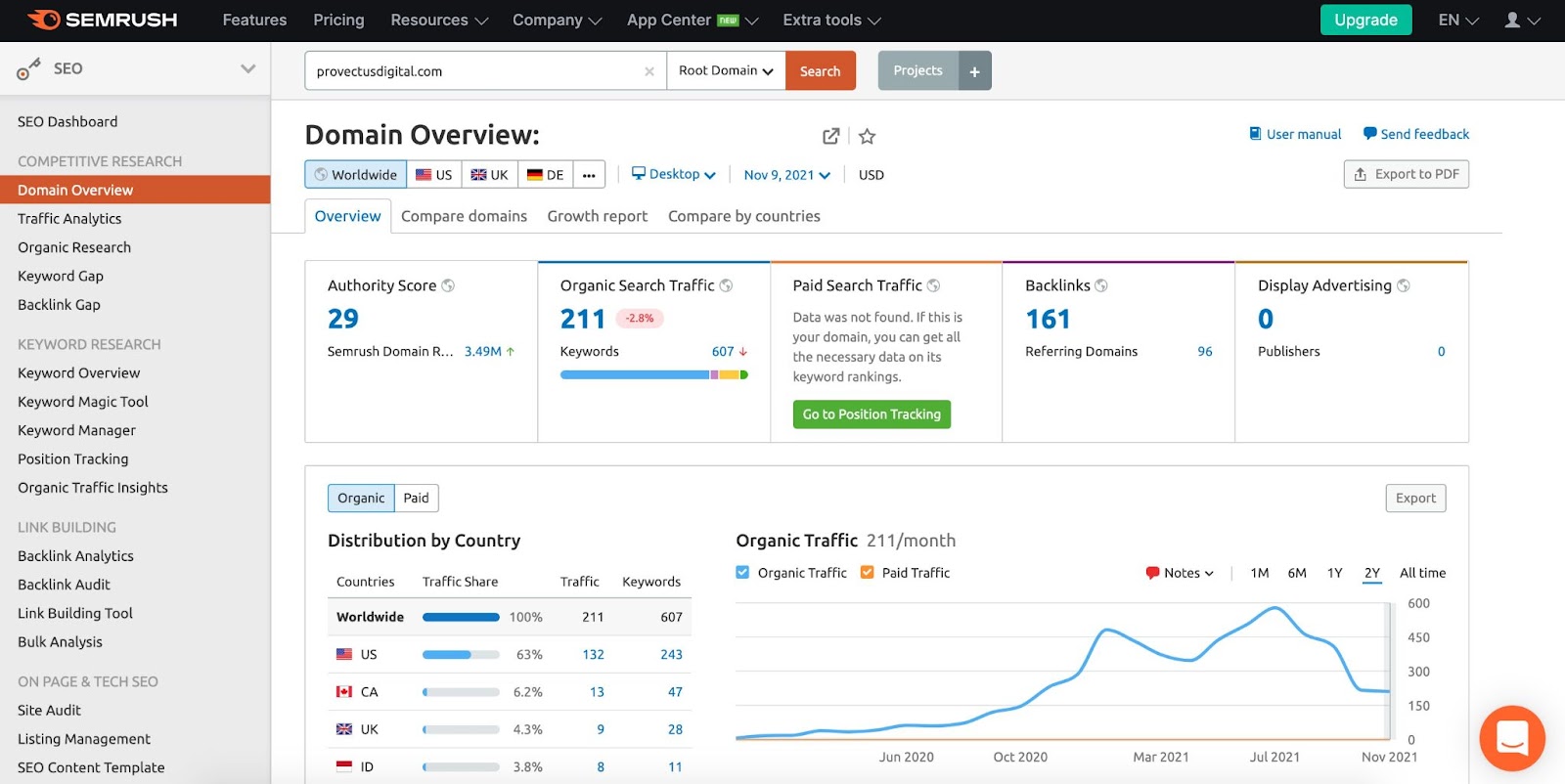 If for some reason you don't want to use Ahrefs and still need an integrated SEO toolset, a popular alternative is Semrush. It provides basically the same functionalities and dashboard as Ahrefs. If you want to compare Ahrefs versus Semrush before deciding which one to use, read this comparison guide.
Google Search Console (GSC) is where the actual traffic and ranking data comes from. So if you want the most accurate and granular data on traffic, clicks, and rank position for each page on your website, there's no question that GSC is the tool for that.
WHAT IT DOES
GSC aggregates traffic, clicks, and position ranking for each page and keyword, providing raw data from Google itself.
By sorting and filtering the results in the Performance tab, you can see which pages are performing best, which keywords you are ranking on, and where your highest click-through rates are.
You can also manage sitemaps, page removal requests, manual actions, and view experience reports such as Core Web Vitals.
WHY USE IT
GSC, as well as Google Analytics, is the single source of ground truth for ranking and traffic data.
What many people — including some SEO experts — don't know is that all other SEO tools, including Ahrefs, use their own algorithms to estimate traffic and rankings, which may or may not be accurate. If you need accurate data, GSC should be your go-to resource.
Finally, the best part of using GSC is that it's completely free!
HOW MUCH IT COSTS
Free.
Further Reading: HubSpot provides, in my opinion, the best in-depth GSC guide with clear and easy-to-follow setup and usage instructions.
WHAT IT DOES
Screaming Frog enables you to crawl a website and extract useful data about each URL. Such data includes status code, type of page, its title, meta snippets, word count, and much more. You can use this data to audit common SEO issues such as redirect loops, broken links leading to 404 errors, missing page elements, etc.
WHY USE IT
To manually gather the same data that Screaming Frog collects during a crawl, page by page, would be extremely time consuming and labor intensive.
Screaming Frog is a time-saving tool that also creates a repository of raw data as a current snapshot of your entire site.
HOW MUCH IT COSTS
There is a free and paid version, and the free version allows you to crawl up to 500 URLs at a time. To crawl more than that in one pass, you'll want to use the paid plan, which is 149 pounds per year.
Further Reading: Here's a detailed usage guide on how to do an SEO analysis using Screaming Frog.
Alternative: DeepCrawl for bigger sites
Screaming Frog is a handy tool, but for extremely large sites with tens of thousands of pages, it can eat up a lot of time and CPU. In these cases, DeepCrawl may be a better alternative site crawler for large enterprise sites.
Although DeepCrawl doesn't list pricing publicly, it is almost certainly much more expensive compared to Screaming Frog. However, it has a better GUI and offers a dashboard while Screaming Frog doesn't. Scotty SEO compares the two, listing the pros and cons of each.
There are tons of keyword finder tools available online, many of them free, but my personal favorite is KeywordTool.io.
WHAT IT DOES
KeywordTool.io generates hundreds of long-tail keyword suggestions, including question-based keywords, for every search term you enter. It uses Google Autocomplete to generate these suggestions for each topic and display them in an intuitive user interface, giving you plenty of ideas for your content, paid ads, social media, and other marketing channels.
WHY USE IT
If you want some quick keyword suggestions for a content idea and don't want to use a tool with a bunch of bells and whistles, you can go straight to keywordtool and punch your keyword idea in. You'll see 750+ keyword ideas with a free account. If using a paid account, you can see twice as many keywords, plus their search volume, trend, CPC, and competition data.
HOW MUCH IT COSTS
Free, can be used without an account, otherwise it starts at $69 monthly for the Pro Basic plan, which still doesn't include CPC and competition data. The most popular paid plan is Pro Plus, which is currently $79 a month and you'd get access to all the data. However, if you want to use its API, you'd need to sign up with the Pro Business plan at $159 per month.
WHAT IT DOES
Surfer provides an in-depth breakdown of the SERP results for a given keyword. It compares all kinds of data points from those results against your blog post, showing you how to improve your blog post against competing articles that are already ranking high.
However, it only focuses on on-page SEO. It doesn't do backlink analysis, rank tracking, or site audits like Ahrefs or Semrush does.
WHY USE IT
If you're writing content and want to find ways to outrank competing articles in the top 5-10, Surfer's Content Planner gives you plenty of ideas, such as header suggestions, on exactly how to do so. Surfer SEO displays a "traffic light" scoring system on their dashboard right next to your writing, so you can optimize your content in real time.
Of course, beware of keyword stuffing versus natural writing, and the data should never be taken literally as they are based only on estimations based on internal algorithms, not actual traffic and clicks data. Just like Yoast SEO and others discussed above, Surfer is a tool — only with common sense and writing that flows naturally, will your content see improved results even when Surfer scores don't display green.
As long as your content is informative, engaging, and relevant — and more so than most competitor articles — it should do quite well with the search engines within a couple of months after publishing, with or without the assistance of Surfer and other content optimization tools.
Optionally, you can speed up the discovery process by sending your content through a distribution strategy with a few paid and social campaigns.
HOW MUCH IT COSTS
Starts at $59 monthly for a basic plan that allows for 10 content editors all the way up to $239 for a business plan that allows for white labeling, API usage, and 10 team member invitations. You also get 17% off if you pay annually instead of monthly.
Alternatives to Surfer SEO:
If you're looking for alternatives to Surfer, check out Clearscope. Clearscope's features are very similar as you can see in this SaaSworthy comparison table.
However, bear in mind that Clearscope is a lot pricier than Surfer. Its professional plan being at $350 per month with 10 user seats, Clearscope is more suitable for more established businesses with a content team already in place.
Another content-focused alternative that may be slightly cheaper is Frase, which has constantly been adding new features over time. They even have a free sandbox that allows you to try it out before making a decision on which content-based SEO tool you want to use.
Moz Pro has a suite of useful SEO tools much like Ahrefs or Semrush with plans starting at $99 monthly for individuals and startups, all the way up to $599 monthly for larger in-house marketing teams. It includes a whole range of toolsets for keyword research, visitor insights, rank tracking, site crawl audits, and link opportunities.
Moz also includes STAT, an enterprise rank and SERP tracker that provides analytics for SEO experts, helping you stay competitive with fresh insights going toward your content strategy.
So if you're looking for an all-in-one tool other than Ahrefs or Semrush, don't sleep on Moz Pro.
Final Remarks
Larger companies or bigger marketing teams may do well with an all-in-one suite containing a shared dashboard and team accounts. On the other hand, smaller businesses may only need certain features or functionalities that they can purchase on free or basic plans among the above set of tools.
Whichever tool you use, most offer a free or limited trial that gives you time to evaluate a tool before committing to a monthly or annual plan.
What's important for your SEO strategy is not which tool you use, but whether you are able to resolve all technical issues that may be holding your website back and in turn, improve the user experience for all site visitors. When visitors stay on your site longer and use internal links to navigate your content, the ranking signals on your site increase, pushing your content up the rankings.
In some situations, however, you may prefer to have an SEO consultant or agency use these tools to handle all SEO-related tasks for your website while you focus on other marketing initiatives. If that's the case for you, feel free to contact Provectus Digital about running a technical SEO audit and keyword analysis for your website.