Uncategorized
5 Things to Consider Before Deciding Your Brand Doesn't Belong on TikTok
TikTok scares most brands. Before deciding your company does not belong on TikTok, discover 5 reasons you should leverage a social media platform that has one billion monthly active users to authentically connect with brand advocates.
Connect with Brand Advocates [Not Buyers]
The most commonly cited reason brands don't use TikTok is that their customers aren't on the platform. A recent LinkedIn Pulse poll uncovered that over half of the respondents are not on TikTok because they don't believe it's the right audience for their company.
While your customers might not be on TikTok [yet], your employees and users are.
At all follower levels, TikTok has significantly more engagement than other social platforms. Micro-influencers had engagement rates of 17.96% and mega-influencers had engagement rates of 4.96%. This is, on average, 5x the engagement seen on either Instagram or YouTube. On LinkedIn, that engagement rate is somewhere around .035%.
Across all US users, engagement averages 17.99%. No social media platform is better for engaging with your audience than TikTok.
It's time to let go of the idea that TikTok is "for the kids." As of February 2021, 67.5% of US TikTok users were over 20 years old. Your brand advocates are on TikTok and are spending close to one hour per day on the app.
Your employees and users are talking about your brand. Consider these hashtags: #salesforce is mentioned 14 million times, #mckinsey 2.8 million times, and #siemens is tagged 22.5 million times.
If your marketing team values engagement and organic reach, TikTok is the right place for your brand.
2. The Value of Being an Early Adopter
TikTok for Business was launched one year ago. The concept of using TikTok as a business platform is still in its infancy.
When TikTok for Business launched, life hacks and advice was the 7th most popular content category. Recently, TikTok has made a shift to push popular categories like pranks and dances down the For You Page (FYP) algorithm. As a result, we should expect advice, including business & career advice to trend at greater levels.
Topics important to B2B Brands are gaining traction.
In 2020, #B2BSales was a micro-hashtag with under 50,000 views. Less than 1 year later, it's on the verge of reaching 500,000 views. 900% growth in 9 months is too exponential to be ignored.
What keywords are most important to your industry? Maybe growth marketing [521k views], recruitment [201 million views] or corporate finance [53.5k views]? Select 5 keywords relevant to your brand. How many users are discussing the topics that are most important to your company?
Join or start conversations on the topics most important to your brand. Be a leader not a laggard.
3. Easy, Authentic Content Creation
TikTok's slogan is Don't make Ads, make TikToks. Ads are forecasted as a major revenue stream for ByteDance, TikTok's parent company. Not surprisingly, TikTok wants business creators to succeed.
TikTok for Business has a suite of free support tools, including a Creative Center, Small Business Center, and live virtual learning events. A Program Director shared that "lack of knowledge on how to launch" was the primary reason her company was not using TikTok. The multiple free tools provided by TikTok ensure a layperson can create an account and start publishing content over the course of an afternoon.
Unlike other platforms where high-performing content is highly produced and manicured, high-performing content on TikTok is often raw and valued for authenticity. The TikTok community wants a glimpse behind the curtain of a celebrity or a brand's perfectly curated image. To remain relevant, companies must embrace this direct connection to their brand advocates.
Check out 100 of the best moments on TikTok.
Is your marketing team prepared to invest 50k in a brand take-over? No. That's okay. Few brands are prepared to make that type of investment. A little known feature of TikTok is Promote Assistant. Promote offers three options you can select for your video: more video views, more website visits or more followers. For each option you can customize by gender, age, and interests. A well-promoted video can cost as little as $30 USD.
Knowing that your barrier to entry is as little as $0-30, what is really stopping you from embracing TikTok?
Another meaningful avenue is content created for your brand by the TikTok community. The catch—your marketing team needs to embrace the unknown. A company doing this particularly well is HP. In 2019, HP launched an experiential marketing campaign at the iconic Coachella Music Festival using the hashtag #hpcoachelladreamland. The campaign resulted in thousands of TikTok user-generated videos garnering 183 million views.
What company would shy away from 183 million views from prospective customers, employees, or brand advocates?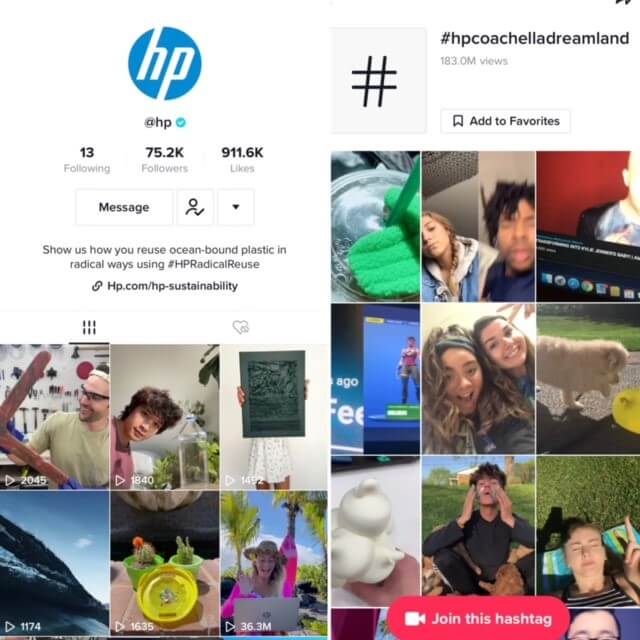 4. Communicate Your Company Values
Your company has a unique perspective, TikTok is the place to share it.
Millennials and GenZ commonly cite company values and culture as a deciding factor in their job satisfaction. 88% of employees believe that it's unacceptable for a company to only work for profit. They believe that companies have a responsibility to drive positive social impact.
TikTok is an ideal platform to promote your company values and highlight how you are driving social impact.
What recruitment team would turn down the chance to connect with prospective employees at the rate of millions per year?
Look no further than a profile like @jackiecaves. Jackie posted her first #humanresources TikTok during May 2020. A year later, Jackie's profile has over 150,000 followers and dozens of viral videos including one that topped 5.6 million views.
In an environment where companies are battling out for the best talent, it's too big of a risk to not connect with your potential employees on TikTok.
5. Looking Forward  
Many B2B companies sell services or software that can cross geographical lines. TikTok has a presence in over 80% of the world. According to the brand, TikTok is available in 75 languages and in 150 markets.
Imagine being able to scale your company's global presence by posting videos on a social media app.
B2B brands like Morning Brew or Adobe have been quick to embrace TikTok. Both companies have 6-figure follower counts. Adobe launched their TikTok account in April. They have published under 80 videos [mostly content generated by other users] and are closing on 200,000 followers.
Can you name another social platform that provides the opportunity to grow at the rate of fifty thousand followers a month?
As we look forward, it will be more difficult to gain followers and get videos on the For You Page. The time to create your TikTok profile is now.
How to Get Started:
Step 1 – Create an account. You can change your handle every 30 days. Pick a good handle, but if you don't get it right the first time, it's easy to change.
Decide if you want a business account or a creator account. You can switch between the two account types at any time. Both account types provide analytics and access to the Promote feature. However, with a business account you lose access to most of the trending sounds which makes it difficult to go viral.
Step 2 – Find 100 similar accounts and trending creators to follow. This allows you to have visibility into what your peers are doing and what trends you should consider using.
Step 3 – Join the fun. Start creating content. It does not have to be perfect, but it does have to be either educational, inspirational or entertaining.
TikTok is a powerful platform to scale your social presence. TikTok is the best place to build authentic connections with your brand advocates.
Do you still think your brand doesn't belong on TikTok?
Click here to get started and then come back to the RevGenius community to share your journey.